A bunch of friends decided to have a Valentine's Day potluck this weekend and I thought it was a perfect opportunity to use my heart shaped cake pan. I decided to try my hand at a red velvet cake, which would be a first for me. I used the recipe listed below, which was incredibly easy to follow. I decided to frost it with cream cheese frosting and then used a heart shaped cookie cutter to create a red heart on top. I hadn't planned on it but I ended up making a cake that looks like the heart containers in Zelda. I was so happy because I LOVE playing Zelda games. Sadly only a few people at the party got the reference, but they still liked the cake itself.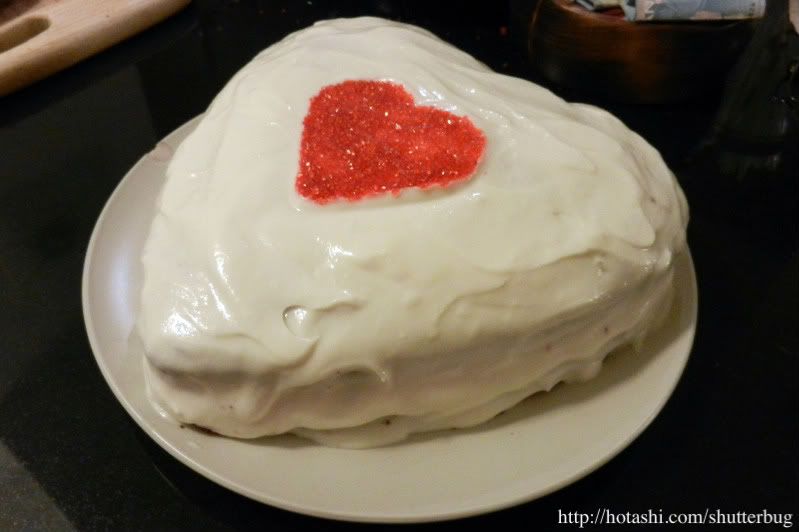 I learned a few things while making this cake:
Lining the bottom of the pan with parchment paper works better than buttering the pan. You will get a cake with a perfect bottom and won't have to worry about it breaking when you try to get it out.
Mixing the vinegar with baking soda to create the bubbling chemical reaction and then adding it to the batter will create a fluffier cake.
Wrapping a string of floss around the cake and pulling it through is an easier way of slicing a cake in half than using a knife. Just make sure it's not flavoured floss otherwise you'll get a minty tasting cake.
Remember that a red velvet cake is supposed to be a soft, moist cake that has a slight taste of cocoa. The buttermilk gives it a moist texture but you must also make sure not to over mix the batter, otherwise it will turn out hard and dense. I used the recipe from this video as a basis for what I did.
Ingredients:
- 2-1/2 cups of cake flour (I used sifted all-purpose flour)
- 2 Tbsp. cocoa powder
- 1/2 tsp. salt
- 1 cup buttermilk
- 1-1/2 Tbsp. red food coloring
- 1 cup melted butter
- 1-1/2 cups sugar
- 2 large eggs
- 1 tsp. vanilla
- 1 tsp. white vinegar
- 1 tsp. baking soda
Instructions:
1. Sift the flour, cocoa, and salt together in a medium sized bowl.
2. In a measuring cup mix buttermilk and food colouring together.
3. Cream sugar and butter together. Mix in vanilla and eggs.
4. Mix in 1/3 of flour mixture until fully mixed in.
5. Mix in 1/3 of buttermilk mixture until fully mixed in.
6. Repeat steps 4 and 5 until everything has been mixed together. Do not combine steps 4 and 5 into one step.
7. In a separate small bowl combine baking soda and vinegar. Add bubble mixture to batter and stir in with a spatula.
8. Line the bottom of the baking pan with parchment paper and butter the sides of the pan.
9. Pour in batter. Lift pan over counter about 2″ and drop on counter to release any trapped air in batter.
10. Bake at 350 degrees for 40 minutes or until a toothpick pierced into the centre of cake comes out clean.
11. Cool for an hour and then flip over on a plate. Remove parchment paper from bottom and turn cake right side up.
12. Use a long piece of unflavoured floss or string to cut cake in half, as shown in this video.
13. Frost bottom half of cake. Put top layer back on and frost the rest of the cake.
14. Place a heart shaped cookie cutter on top of cake in the centre and fill with red sprinkles.
15. Take cookie cutter off slowly and adjust frosting. Remove any stray sprinkles on cake.